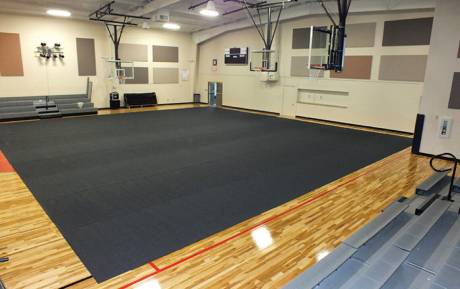 GYMPRO® Eco-Roll
Quick Attractive Protection Lightweight, Fast Protection
As our #1 best selling product, GymPro Eco Roll is one of the best performing gym floor covers on the market! This gym floor carpet roll protective cover system, it is a necessary component for gyms and arenas. Our GymPro® Eco-Roll help prevent scratches, and scuff marks from stages, chairs, tables, and shoes. Eco-Roll also help prevent drink spills from coming onto and damaging your gym floor. The top layer is an attractive carpet surface. The waterproof, non-slip backing prevents liquids from penetrating to the gym floor. An additional great benefit to our GymPro Eco Roll is it doesn't wrinkle like the old vinyl floor covers, once the gym floor cover is deployed it lays nice and flat, just put the reusable seaming tape down and you are all set!
Key Features:
100% Recycled Polyester Topcloth
Anti-Microbial
Extremely Light Weight, Durable, & Tear Resistant
Fast and Easy Installation: only a 2 Person Deployment and Retrieval
Appearance and Acoustical Properties of Carpet
Highly Slip and Stain Resistant
Easy to Clean
Reusable Top Hook Seaming Tape Included
Compact and Easy to Store
Specifications:
Dimension: 6ft wide x Custom Length
Weight: 15.5oz. per YD2
Warranty: 3 Year
Fire Rating: ASTM E648-06 Class 1
10,000 sq. ft saves 7,000 Plastic Bottles from the Landfill
Accessories:
Eco-Roll Storage Rack holds up to 7,200 sq ft. of material
Power Winder | Makes Rolling up your Eco Roll a Breeze!